Meet the Artist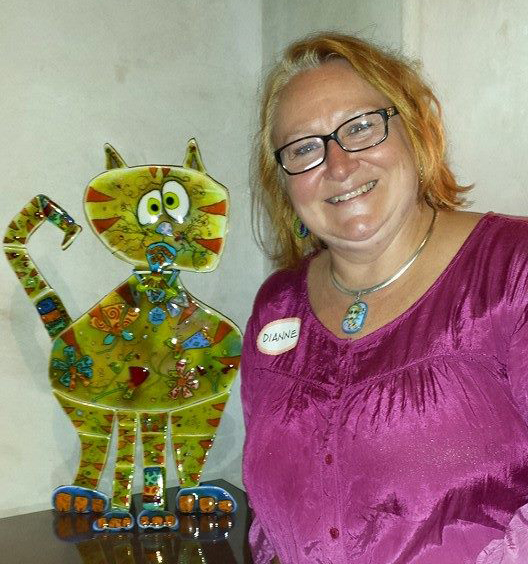 Dianne runs with glass, sings in to a paintbrush, weaves you laughing and being an animal love, tiptoes through the cat hair.
Today, Arizona is where she calls home. Originally from Michigan, her love for glass was influenced by the stained glass art of family friends she grew up with.
Groovy Glass was her unique free form style of glass known for its funky twisted wire and decorative soldering that became a favorite of collectors worldwide.
Taking glass to a new level, she soon started painting on glass which lead to a collection of miniature hand painted pendants.
Her talents didn't stop there. Dianne loves to work small and started painting another miniature portrait line of people that resulted in taking black and white vintage photos and bring them to life with color. Because she became so attached to the originals, she couldn't part with them so she developed a line of prints that she offers with fictional stores she contrived about each one.
Being a fickle artist, Dianne started to lean away from her desire to create with glass. Although she still had the appreciation for it, she was starting to lose the passion.
With the popularity of handwoven fiber art, she decided to indulge her curiosity of weaving. After making a handmade loom and creating her first miniature tapestry, she was hooked. There was something meditative and relaxing in the under over rhythm in the repeated stitches that begged her to continue down this new path.
Dianne is an artist that isn't afraid to take risks. She has learned to listen to her inner voice over the years and has decided to listen when it tells her to take a different fork in the road. She has decided that life is too short to continue following an artist's path that no longer continues to bring her joy. From now on she will only create art that she is truly passionate about.
Through the years her art has been collected worldwide, carried in many shops and boutiques in the U.S., and featured in a glass publication.  She currently can be seen in area events across the valley.
With her art, she hopes to bring you the same warm feeling that it gives her to create.